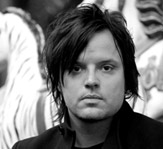 Peter Keller
The newest member in the Peter Maffay band is Peter Keller. A successful producer, arranger, lyricist, and composer in his own right. Keller is known as a flexible, and creative professional. His credits include work with: Motosheep, A-ha, Juli, Zeromancer, Apoptygma Berzerk, Hubert Kah, De-Phazz, and Wunder.

In 2004 Peter Keller Joined the Peter Maffay band and has already
co-produced and played guitar on the most successful album in Germany in 2005,
Laut & Leise" Born in Bielefeld, Keller enjoys working and living Hamburg, Germany where he also serves as a consultant for Band training, Arrangement, Production and Guitar to The Hamburg School of Music.
About Peter Maffay | More Artists & Music